Lunar
Podiatry operating unit
The Lunar podiatry unit is available in two versions:
- B with instruments with spring tension arms and stop device (syringe excluded)
- F with instruments with suspended hoses
Lunar podiatry unit technical characteristics:
- structure made of steel treated against oxidation
- ABS-PMMA casings
- Italian and Swiss electronic boards
- possibility of adjusting the intensity of water and air
- safety system that excludes the simultaneous spray/suction function
- Hydro Stop: air flux automatically activated any time the micromotor stops working to avoid cross contaminations
Class IIa Medical Device
Chest of drawer: total modularity of all elements and unlimited possibility of combinations
Possibility to configure the podiatric unit with an additional chest of drawers.
Worktop in Corian BTS
Structure mounted on wheels for easy movement
Double articulated arm on three joints that allows wide excursions of the instruments' tablet on the horizontal plane.
Movable and ambidextrous Touch Screen 5" control panel with management of instruments and visualization of dynamic instrument activation, as well as wireless control of the Stern Podia chair movements.
Possibility of customizing the instrument tablet according to your operational needs
The SL multifunctional pedal, available in the Lunar podiatry unit, allows the progressive increase of the speed of both Micromotor and Turbine up to the pre-set maximum speed.
Chip Blower: air flux via direct pressure of the pedal lever
Choose your drawers in the version you prefer
Drawers with white handles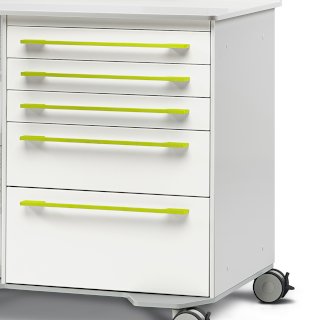 Drawers with colored handles