Orion
Innovation and elegance
Orion is one of a kind podiatry chair with a perfectly vertical lifting movement guaranteed by the double column steel structure and high-strength casings in ABS + PMMA.
The 350° rotating structure, on a 260 mm diameter ball bearing in Delrin® with a progressive effect braking system, gives maximum efficiency and operational ergonomics to this podiatric chair.
Attention has been paid to every last detail: the internal insert of backrest and seat is made of steel and the cushions are made of polyurethane foam with foam injected in a mold and foam thickness ergonomically differentiated.
Depending on the chosen model it can be equipped with 3, 4 or 5 motors to support the podiatrist in the daily activity.
All models of Orion podiatry chair perform 3 motorized movements: up/down, trendellenburg and backrest.
Being always in ambidextrous configuration ORION is also ideal for left-handed podiatrists.
Class I Medical Device
Technical characteristics
- min. height of seat: 490 mm
- max. height of seat: 890 mm
- leg-rest angular inclination: 90°
- backrest inclination: 85° (-5°, -90°)
- seat tilt (trendellenbourg): 30°
- leg-rests max. height: 1310 mm
- podiatry chair weight: 120 kg
- rated lift load: 220 kg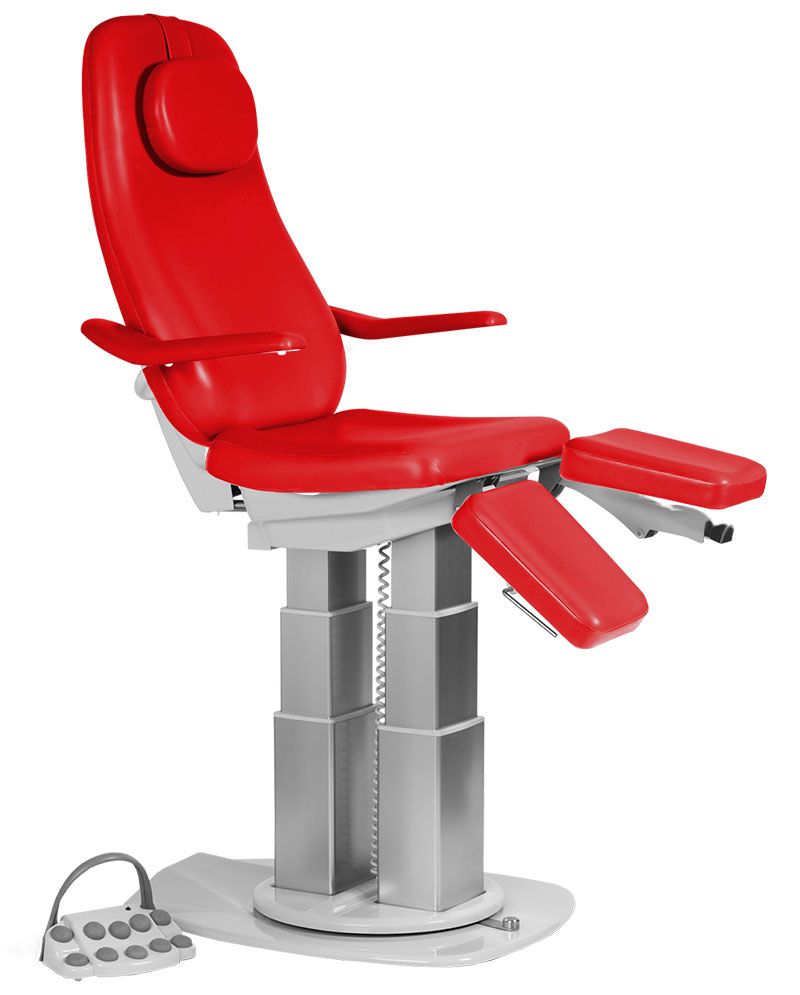 - Columns lifting system.
---
- 15 mm thick steel anti-tipping base.
---
- 350° rotating structure with brake system with progressive effect.
---
- "SAFETY STOP system" to be activated by the patient and the operator.
- Coaxial armrests that always remain parallel to the seat.
---
- Upholstery in hypoallergenic and self-extinguishing integral 2 mm PVC available in both mono and bicolor version.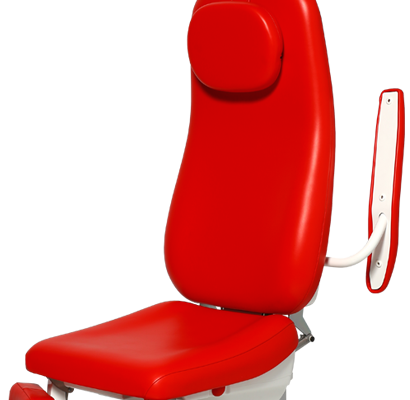 All the positions you need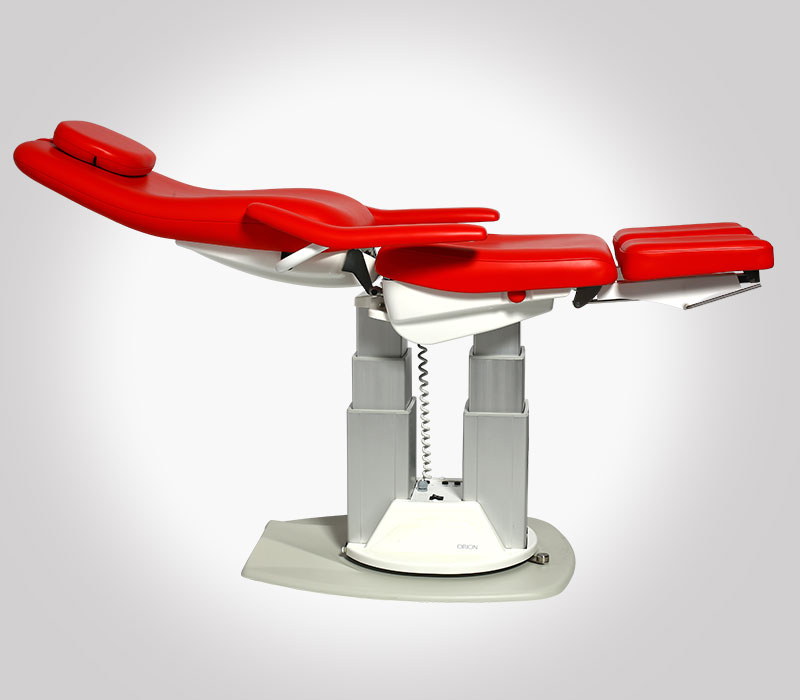 Possibility to reach the "examination table" position
Articulated leg-rests with side opening
Tilting leg-rests with an angular width of 90°
Extra Slyde System: up to 250 mm stroke
Wireless Single Touch foot control
with 3 storable positions and
automatic return to "0" position.
Choose your color
Choose your podiatry chair in mono or bicolor version
Models of Orion chair available
ORION with double mechanical leg-rests:
- 3 motors
- Articulated leg-rests with 30° side opening, mounted on telescopic slides with Extra Slide system (250 mm stroke)
ORION with single powered leg-rest controlled by the Wireless foot pedal:
- 4 motors
- Leg-rest mounted on telescopic slides (180 mm stroke)
ORION with double powered leg-rests controlled by the Wireless foot pedal:
- 5 motors
- Articulated leg-rests with 30° side opening, mounted on telescopic slides with Extra Slide system (250 mm stroke)