Proxima
The new chair podiatry generation
Proxima is a new generation of podiatry chairs especially designed to offer the best to both the patient and the podiatrist.
With an unique and innovative design Proxima improves all the characteristics present in other podiatry chairs, bringing them to the maximum level.

Proxima podiatry chair has the minimum seat height, to make it easier for the patients to seat in complete safety.

At the same time, Proxima reaches up to the maximum seat height which, combined with the height that the extremities of its leg-rests can reach, allow the podiatrist to work from a very comfortable position whether seated or standing.

In addition to that, the new, unique wireless electric brake system allows the podiatrist to rotate up to 350° and stop the podiatry chair with the simple touch of a button.

The maximum comfort is provided to the patients, thanks to the widest back rest and seat in the market.
Depending on the chosen model it can be equipped with 2, 3, 4 or 5 motors.

Powered movements easily controllable through the foot pedal give the flexibility of positioning patients where the podiatrist need them for a more ergonomic working position.
Class I Medical Device
Technical specifications:
- min. height of seat: 460 mm
- max. height of seat: 911 mm
- Leg-rest angular inclination: 70°
- Backrest inclination: 80° (-10°, -90°)
- Seat tilt (trendellenbourg): 32°
- Leg-rests max. height: 1420 mm
- Podiatry chair weight: 125 kg
- Rated lift load: 220 kg
- Pantograph lifting system.
---
- 12 mm thick steel anti-tipping base
---
- 350° rotating structure with brake system with electric brake system.
---
- "SAFETY STOP" system to be activated by the patient and the operator.
- The armrests can be moved also separately and in an independent way.
---
- Upholstery in hypoallergenic and self-extinguishing integral 2 mm PVC available in both mono and bicolor version.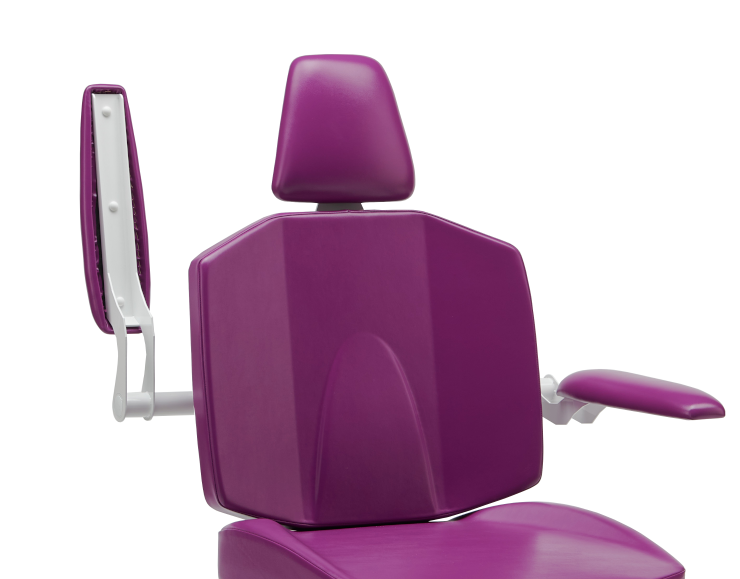 -  Unique Extra Slyde System: up to 350 mm stroke


---
- Gas spring for easy up and down moving of the leg-rests.
---
Wireless Single Touch foot control
with 3 storable positions and
automatic return to "0" position.
Electrical wireless brake system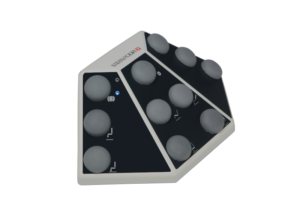 All the positions you need
Extra Slyde System: up to 350 mm stroke.
Articulated leg-rests with side opening
Possibility to reach the "examination table" position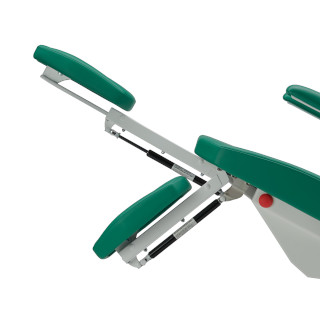 Tilting leg-rests with an angular width of 70°.
Choose your color
Choose your podiatry chair in mono or bicolor version
Models of PROXIMA chair available
PROXIMA with manual backrest movement and double mechanical leg rests 
- 2 motors
- Horizontally retractable leg-holders (30°+30°), mounted on telescopic slides - 350 mm stroke
PROXIMA with powered back rest movement leg rests controlled by the Wireless foot pedal and double mechanical leg rests
- 3 motors
- Horizontally retractable leg-holders (30°+30°), mounted on telescopic slides - 350 mm stroke
PROXIMA with manual backrest movement and double mechanical leg rests - COMFORT UPHOLSTERY:
- 2 motors
- Horizontally retractable leg-holders (30°+30°), mounted on telescopic slides - 350 mm stroke
PROXIMA with powered back rest movement leg rests controlled by the Wireless foot pedal and double mechanical leg rests - COMFORT UPHOLSTERY:
- 3 motors
- Horizontally retractable leg-holders (30°+30°), mounted on telescopic slides - 350 mm stroke