Pleion S
The synthesis that expresses functionality and prudent investment.
As well as PLEION X, also the PLEION S podiatry chair is equipped with a pantograph structure in steel treated against oxidation, high-strength casings in ABS + PMMA and a 350° rotating structure on a 260 mm diameter ball bearings in Delrin® and brake system with progressive effect.
Equipped with polyurethane foam cushions, the upholstery of PLEION S is harmonious and linear and in total absence of seams.
The pedal with cable present in the PLEION S model allows the activation of the 2 motors.
The motorized movements of the PLEION S podiatric chair are 2: up/dowm and trendellenburg, since the backrest is adjusted manually.
Also PLEION S, as well as the other SMD Stern Podia podiatry chairs, is suitable for both right and left-handed operators.
Class I Medical Device
Technical characteristics
- min. height of seat: 540 mm
- max. height of seat: 940 mm
- leg-rest angular inclination: 90°
- backrest inclination: 75° (-15°, -90°)
- seat tilt (trendellenbourg): 32°
- leg-rests max. height: 1300 mm
- podiatry chair weight: 95 kg
- rated lift load: 160 kg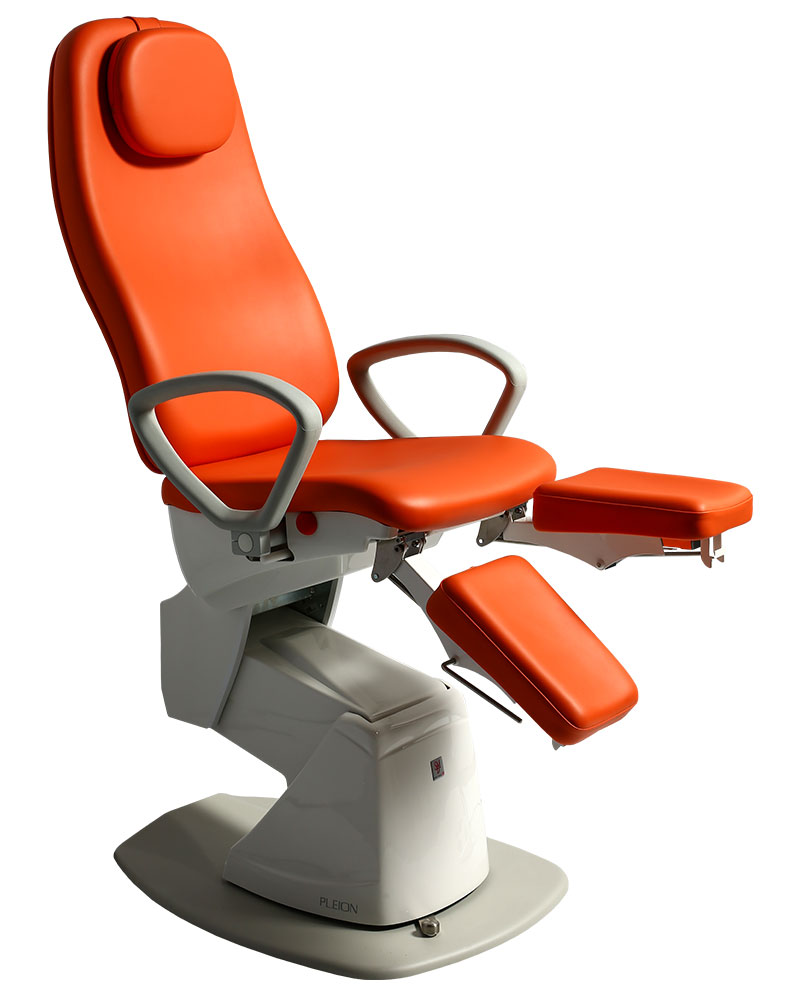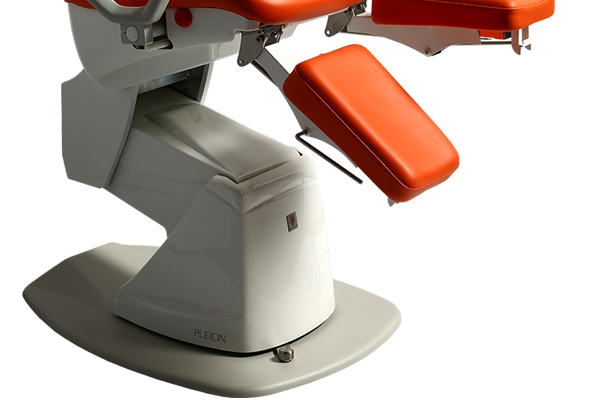 - Pantograph lifting system.
---
- 15 mm thick steel anti-tipping base
---
- 350° rotating structure with brake system with progressive effect
---
- "SAFETY STOP system" to be activated by the patient and the operator.
- Folding armrests, in polyurethane foam.
---
- Upholstery in hypoallergenic and self-extinguishing integral 2 mm PVC, available in both mono and (optional) bicolor version.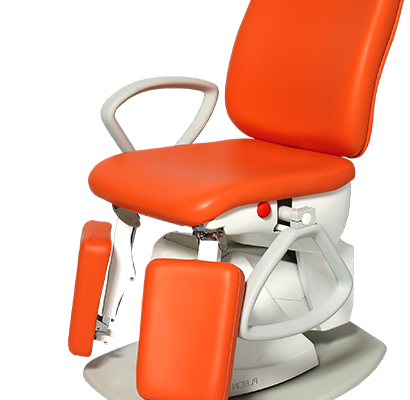 All the positions you need
Possibility to reach the "examination table" position
Articulated leg-rests with side opening
Tilting leg-rests with an angular width of 90°
Extra Slyde System: up to 250 mm stroke
Foot control with cable
with buttons for moving the chair
and automatic retrieval to "0" position
Choose your color
Choose your podiatry chair in mono or (optional) bicolor version
Models of Pleion S chair available
PLEION S with double mechanical leg-rests:
- 2 motors
- Articulated leg-rests with 30° side opening, mounted on telescopic slides with Extra Slide system (250 mm stroke)